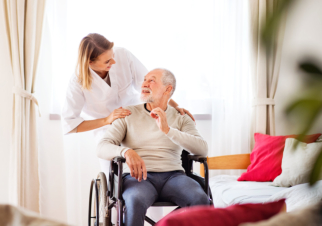 Nova Healthcare at Home offers superb and personalized home health care services in Brentwood, California that are designed to make life easier for you. We offer a wide array of care services in order to meet all of your needs in the familiar surroundings of your own home.
These services are not meant to babysit you but rather to help you pursue a more independent and satisfying lifestyle. Here are a few of the many ways our home health agency in California can make life more convenient for you:
Rehabilitative Therapy: We offer occupational, physical, and speech therapies at your convenience. Through these therapeutic services, we can help improve your health at home. Our therapy services are personalized to meet your unique needs, in order to make it easier for you to live life the way you want or to restore your physical strength and abilities.

Skilled Nursing: We also offer superb skilled nursing services you can enjoy at home. Through these services, we can do a multitude of things for you such as monitor your vital signs or even help you maintain chronic health conditions like diabetes. We have a full range of nursing services you can enjoy. These services are a great way to ensure your health is where it should be.

Home Health Aide: Our home health aides in California can offer you many services that can make life more convenient. If you are disabled, elderly, or are recovering from an injury, tasks like using the bathroom, personal hygiene, or even getting dressed can become a challenge. Our home health aides are committed to providing you the helping hand you need. With these services, you no longer have to dread using the bathroom or stress out about the small things because you will have access to the professional aid you require.
If you are looking for a way to not only improve your independence but also your quality of life, then our in-home health care services can provide you what you need. Our services are tailored to meet your specific needs because we understand everyone is different and everyone requires different levels of care.
Allow us to help you live the lifestyle you love!