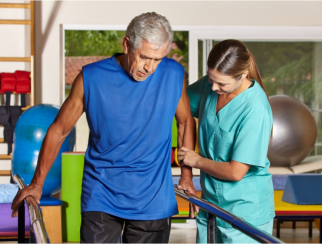 Becoming disabled or recovering from an injury can make it feel like your life has been flipped upside down and you have no idea how to proceed anymore. The basic things in life are suddenly huge obstacles and it might feel like you have lost your independence. However, Nova Healthcare at Home offers personalized home health care services in Brentwood, California that provide the solution you are looking for.
Here is how we can get you back on your feet through our therapeutic services:
Physical Therapy: One of our extensive therapies is our physical therapy services. These services, are meant to restore your physical strength and range of motion. Basically, when you have become disabled or severely injured this can leave you in a weakened state. In order to get you out of this enfeebled state, our home health aides in California can provide you with personalized therapy services in the comfort of home. Through these services we will help you do a multitude of different exercises designed to help you recover your strength and to even literally get you back on your feet as fast as possible.
Occupational Therapy: Once we have restored a good amount of your physical strength, we will then focus on helping you learn or relearn the skills needed for day to day life. These skills can be anything from learning how to pick up objects to learning how to cope with a disability. Depending on your needs, we will customize our services to suit you perfectly. Through this occupational therapy, we can really help you restore a large amount of your independence by teaching you the skills needed to rely on yourself once more. This therapy can help you regain your confidence.
In-Home Healthcare: As a home health agency in California we also provide a number of personalized care services to help you live a healthier life at home from wound care to personal care. We can lend you a helping hand to make life easier for you.
Do not let a disability or an injury hold you back. Through our home health services, we can help you restore your life and get you back to enjoying it to the fullest. The best part is we can provide you with care all at your convenience and in the comfort of home.