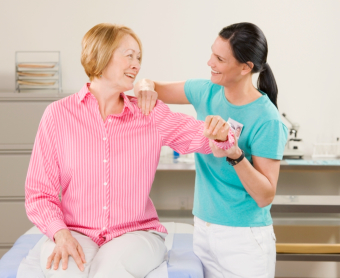 Therapists perform a myriad of jobs that are essential for someone recovering from injury or operation. Although people are not too familiar with them, they are responsible for the fact that your loved one can walk and move around again. Hence, it is important that we get smart about therapy. It helps if we do some research in advance or try Home Health Care Services in Brentwood, California, from Nova Healthcare at Home.
If you are planning to undergo physical therapy or your doctor has advised you to get one, here are some basic questions that you may need to ask them:
Is there a particular part of my body that is hurting?
We may feel the pain but we cannot point out the exact part where it is throbbing. The best person who can help us with this is our therapist. They will run various tests and physical examination to help spot the injured muscle or part of the body.
What is the care plan?
After the series of test and assessments performed by your therapist, only then can they create a care plan. What most people think is that the therapist alone should do the work on their journey to recovery. But this does not help the whole treatment at all. Physical therapy entails the cooperation between the patient and the therapist. Hence, it is good that we involved the patient in the care method and we always keep an open communication with them so as to know their progress.
When will I get better?
This is a very tricky yet sensitive question. Our therapists at Nova Healthcare at Home, your partner in Home Health Aide in California, do not really make smart guesses when it comes to your recovery. Although we can give you a good answer to it considering that we have other patients with a similar condition to yours. Our answers would depend on our experiences with the past patients and how they recover.
If you have any more questions, you can check our website for additional information at www.novahealthathome.com or call us at 925-240-2334.